What is the next best thing to racing?
Cheering at a race!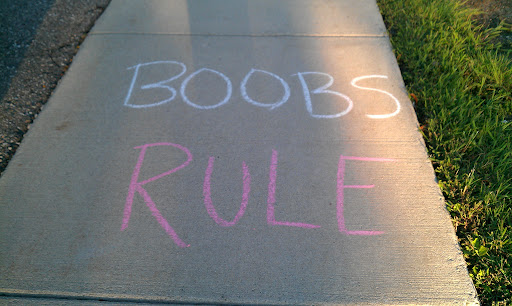 Yesterday, I had the privilege of cheering at the first cheering station of the Komen 3 Day walk. Ever heard of it? Twenty miles a day, three days in a row. How badass is
that
?!
A friend from high school, Keri, who I keep in touch with on Facebook has been walking the 3 Day for the past three years. Her mother is a two-time breast cancer survivor. (WOOT WOOT!) I happened to be in town the same weekend of the walk, so I headed on down to the cheering station to cheer on Keri and her team, the Milkers and Shakers (and everyone else who walked by).


The Milkers and Shakers (Keri is in the middle)


This event is so cool. I loved seeing so many women supporting other women. There were lots of men too and most of them were wearing pink. I saw one older gentleman who had spray painted his beard pink, another guy with a pink mohawk and yet another wearing a bright pink bra over his shirt.
Now would be a good time to mention that I don't care for the word "tit". I don't feel quite as strongly about it as some women do about the words "moist" or "panties", but it's not a word I use and I find it just a tad degrading and offensive. I tend to use words like "breasts" or "boobs". Even "knockers" and "jugs" have been known to come out of my mouth, especially "jugs" while nursing. But "tits"? Not generally in my vocabulary.
Well, there were tits all over the place at the 3 Day walk! And, to be perfectly honest, it seemed totally appropriate.



Tit Crew's support tent. This team's crew was responsible for the sidewalk chalk encouragement, blaring girl-power music and a crew member was painting pink ribbons on any walker who stopped by.
This is a really fun event, supporting an issue that is anything but fun. Breast cancer is so scary and real and, all too often, so devastating, I think we, as humans, need to make light of it sometimes as a coping mechanism.
There were some cute and clever team names other than Tit Crew (which is pretty clever, even if I'm not a fan of the tit part):
Save the Toucans (get it? Two cans? I got a serious chuckle out of that one)

Bodacious Tatas

Blushing and Bashful Boobs

60 Mile Men (an all men's team -- good for them!)

No More Naughty Nockers

Handfuls
It was so awe inspiring to see a whole community coming together to celebrate survivors, honor those who lost their battles and to raise money to help find a cure.
To all of the participants of the 3 Day walk, yesterday, today and tomorrow: you are an inspiration. Thank you for making a difference.
Have you ever walked a 3 Day? Or do you know anyone who has? Would you ever want to? After seeing part of the event yesterday, I totally want to do it. I sent my friend, Kate, a text saying so. Her reply: "you're crazy". I think we already knew that. ;-)