I knew this week was going to be a light week as far as mileage goes. Randy had to travel for work Wednesday through Sunday so my last early morning run of the week was Wednesday. I took the little ladies to Michigan to visit my parents for the weekend.
Aw, how sweet, I went to visit my parents.
I had an ulterior motive. The selfish reason behind the Michigan visit was so I could get out for my long run on Saturday. Thankfully, my parents don't mind my using them as childcare occasionally.
When I'm in Michigan, I usually run the six-mile loop (over and over, depending on what I'm training for) at Stony Creek Metropark. Stony Creek has a beautiful paved path that loops a lake. (
see pictures
) The Metroparks in the Detroit area are not free to use like they are in Columbus. I pay $5 to use the path when I visit. Sure, I could run the roads for free, but then I have to worry about cars and I have to stop for traffic...not to mention there is nothing interesting to look at. It's worth my five bucks to go.
Friday morning, I took the Little Ladies to play at Dodge Park located five minutes from my parents' house.
I noticed that there was a gravel path that looped around a pond there. Hmm....maybe I can get my six miles in at this park instead of driving the twenty minutes to Stony Creek? I saw an older gentleman walking the path and asked him how long the loop was: about a mile and a half. I'd have to run a bunch of times around, but that's ok. I decided to try something new.
I went to the park shortly after sunrise on Saturday morning and made my way down the half paved/half gravel path toward the pond and I saw a bridge that looked like it went into the woods. Curiosity got the best of me and over the bridge and into the woods I went.
I was thrilled at what I found: a paved path that ran along the Clinton River!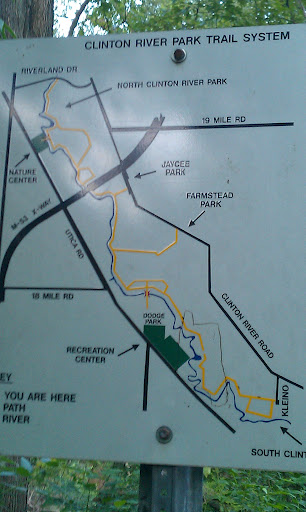 I turned left first and ran. I'll admit, I was a little jumpy. I'd never been there before and there wasn't another soul in sight. I heard a noise in the woods next to me and I clicked my pepper spray, that was strapped to my hand, to the unlocked position and looked around searching for my stalker.
Deer.
Nice, Jamie. Way to keep it together.
I ran as far as the M-53 overpass (just over a mile). Overpasses freak me out a little, and I wasn't feeling very comfortable in my new surroundings as it was so I decided to turn around and explore the other end.
Here are some views on my way back:
How is it that I lived 5 minutes from this view until I was 24 years old and NEVER knew it was here?!
Why, hello, riverfront house with awesome windows! I love you.
I ran all the way down to the south end trail head and turned around to come back to Dodge Park. I was about a half of a mile from the bridge that would take me back to Dodge Park and I saw a couple, who had been walking, stopped and looking into the woods. I slowed to a walk as I suspected they were looking at deer and I didn't want to scare it/them away. So glad I did. This big guy posed for me while I took a few pictures.
Isn't he gorgeous?
By the time I got back to the park, I had run 5 miles. I did a loop around the pond and wandered around a bit for a total of 7.25 miles when I got back to my car. What an awesome run.
Week 2-
Monday- Run: 4.04mi
Tuesday-
Bike: 8.67mi
Wednesday- Run: 6mi
Thursday- Rest
Friday- Strength: Abs and Arms with Mommy!
Saturday- Run: 7.25mi
Sunday- Rest
Total Miles: 25.96
Total Running Miles: 17.29
How is your training going? What week are you on? What are you training for?