My little ladies were watching
Super Why
...ever see it? It's one show that I don't feel (too) guilty about letting my kids watch because of the education components: letter recognition, spelling, reading, math, shapes, etc. The girls love it.
So, they were watching the cook book episode and the Super Readers were following a recipe to make Applesauce Carrot Cake (you can see where this is heading...). Of course as soon as the show was over they begged me to make an applesauce carrot cake. I googled it and found a recipe from
cooks.com
.
Seemed easy enough, so I gathered the ingredients and got to work.
First we mixed all the dry ingredients.
The recipe called for 1 teaspoon of nutmeg, since we use whole nutmeg and not store-bought ground, I used a little less than a teaspoon.
The girls got to help grate the carrots in the food processor. Unfortunately, my grating disk for the Cuisinart isn't a very fine grate, but it's better than having to grate by hand...hopefully the cake doesn't feel too fibrous...
Then it was time to mix all of the wet ingredients. The little ladies love watching the mixer.
I'm careful to keep Ellie's hair pulled back as I've read stories about little girls' hair getting tangled in the mixer. (Obviously, this was before she donated 10 inches of hair to Locks of Love.)
Ready to go into the oven!
It came out of the oven smelling delicious!
Next it was time to make the frosting. Really, how can you go wrong with butter, cream cheese, confectioners' sugar and vanilla? It was mighty tasty. I may or may not have licked the bowl.
I have to say, this is the best carrot cake I've ever had. I had no idea I was capable of such a thing!
Recipe:
Cake
2 3/4 c. flour
3 tsp. baking soda
1 tsp. salt
3 tsp. cinnamon
1 tsp. nutmeg
4 eggs
3/4 c. oil
2 c. sugar
1 tsp. vanilla
1 (15 oz) jar unsweetened applesauce
3 c. shredded carrots
Preheat oven to 350 degrees. Grease and flour cake pan (either bundt, 9x13 or two 9 or 10 inch round).
In large bowl, mix flour, baking soda, salt, cinnamon and nutmeg; set aside.
With whisk, beat eggs, stir in oil, sugar and vanilla. Add applesauce and carrots. Mix well. Combine wet and dry ingredients and mix just until moist. Pour in prepared cake pan. Bake until cake tests done (mine took about 30 minutes).
Frosting
1/2 c. soft butter
1 (8 oz) package soft cream cheese
1 (16 oz) package confectioners' sugar
1 tsp vanilla
In a large bowl with mixer, beat butter and cream cheese and vanilla. Slowly add sugar, beat until smooth. If frosting is too stiff, slowly add milk and mix. (I didn't have to add any liquid.)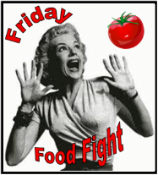 Click to find other great recipes linked to Run DMT.