This is what I get for
whining
about lack of miles last week. I ran a whopping 7 miles this week. Yes, SEVEN. It's been a rough week, to say the least.
After the strange groin pain last Saturday, I didn't run at all until Thursday. I was a little sore but wondered if running would help loosen it up? Only one way to find out, right? I decided I'd give it a mile. If I didn't feel better in the first mile, I'd turn around. If it felt worse in the first time, I'd stop running and walk back. (Check me out, being all smart!)
Well, it didn't get better. At mile 1, I turned around and ran back. It hurt worse when I stopped running. Two measly miles. That's it. I was so upset.
I saw the doctor on Friday. Before examining me, I told him where it hurt and what positions hurt and he told me that he suspects a problem with a hip flexor. I asked if we could fix a hip flexor in 8 days, he shook his head. Crap.
He had me put on these awesome paper shorts:
I'm sexy and I know it...
then moved my legs around, had me push and pull my legs in various directions while he applied pressure in the opposite direction and he pressed and felt around on my hip where the pain was.
His diagnosis? A strained hip flexor.
Do you see that?!
NO RESTRICTIONS!
I could have kissed him. But I refrained.
He also said that the strained muscle wouldn't get better until I rested, but I would do no harm to it (I would just be in pain) if I ran. That, I can handle!
Side note: I really like this doctor. Technically, he's in a Family Practice, but he did his fellowship in sports medicine. I've seen him several other times for running related injuries: a few muscle strains and ITBS. He has never once told me that I had to stop running--he's very practical that way. However, I'm confident that if I had a real injury, he would have advised me to skip the race. I'm pretty sure that I would have listened to him, heartbreaking as that would be. When I told him that it hurt worse when I stopped running, his response (about the marathon) was "Then don't stop running!" See why I like him?
I rested on Saturday and met Anne and a few others from a local running group on Sunday morning to test the old hip out. It was still sore, but I was hoping again that it would loosen up.
I wouldn't exactly say it loosened up, but it didn't get worse...until I stopped. I ran 5 glorious miles and felt like I could do more, but chose to go easy since I'd only run 2 miles this whole week. Glad I did. By the time I drove home, I was really sore and it was hard to walk without a limp, however, after icing and walking around the house a bit, it improved.
My training plan calls for a total of 7 miles next week before the marathon. I might run a few, but probably won't get all seven in. I plan to rest as much as possible with hope of being pain-free by Sunday. One week to go. Fingers crossed.
Here are some updates:
I'm not sure I ever updated about my dog Jackson and the tumor he had removed. It was a fatty tumor, benign and his incision healed up nicely. Not without the help of the Elizabethan Collar, though.
Poor boy. He was so humiliated.
May #superhero challenge! I'm not participating anymore. This makes me really sad too. I loved this challenge, but the spidermen may have had a part in causing this hip flexor thing I've got going on. Last week, I cut out all cross training since I didn't know exactly what the problem was and what was causing it. Next week, I would like to add light abs back in, but I'm a little nervous about how that would affect my hip, so I probably won't do much. It's really unfortunate too, I've been enjoying the hand weights and other cross training during this training plan. Sigh.
My race outfit: This hat was supposed to be delivered to me this week.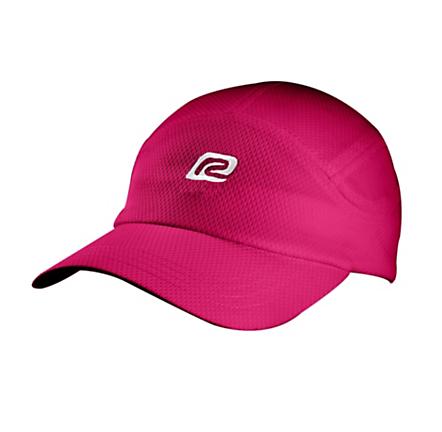 I received an email from
Road Runner Sports
that delivery to the warehouse has been delayed and its expected ship date is now Monday, May 21. Does anyone else see a problem with this? So, it looks like I'll be wearing my light pink hat that doesn't really match my badass race outfit. Worse things could happen, I suppose...like an injured hip.